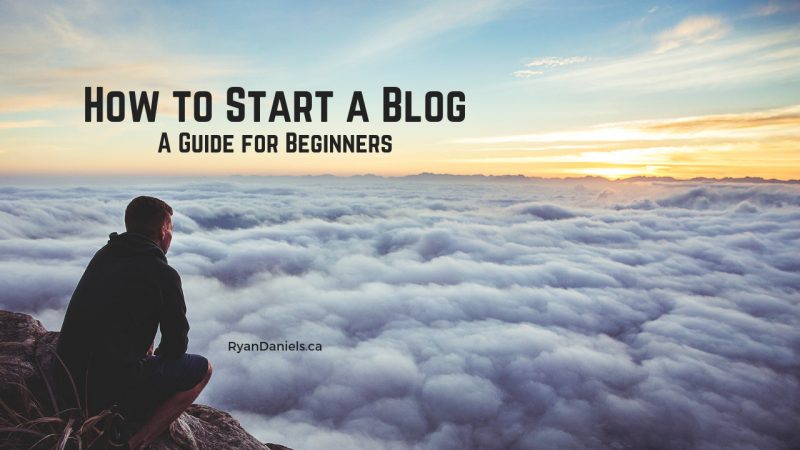 A blog is a great place to get your message out, to sell your products, or to share your ideas. You can write about anything from sharing recipes or pictures to sharing your thoughts on food or any hobbies you have. Many businesses even use WordPress for their company's website.
Starting a blog is very easy!
In the next 20 minutes, you can be the owner of a new blog!
Follow the three easy steps below to get started. This is a guide for beginners to get your content out there.
Disclaimer: Some of the links below are affiliate links, which means at no cost to you I might make a small commission if you buy something.
How to Start a Blog
The three steps to starting a Blog are:
1. Select a Domain Name and Hosting Provider
First thing's first. Let's get some basic terminology out of the way.
What is a Domain? A domain name is your web address (URL) that is used to access and identify your site. My domain is ryandaniels.ca.
What is a Hosting Provider? A Hosting Provider is a company that stores the files and information for your blog.
There are many hosting providers to select from. To learn more about different Hosting options see my previous post. For a new beginner blog, a website hosting provider that offers a Shared Hosting solution is a great option. SiteGround has a shared hosting solution that is highly regarded.
OK. So what do you want for your domain name?
Think of as many names as possible that capture the essence of what you want to write about. It's important to pick a relevant domain name for your website. Once you pick the one you like, head over to SiteGround to register it and to select your hosting plan. When selecting your plan level I suggest the "StartUp" starter plan. If you want to have multiple websites then one of the other plans would be right for you.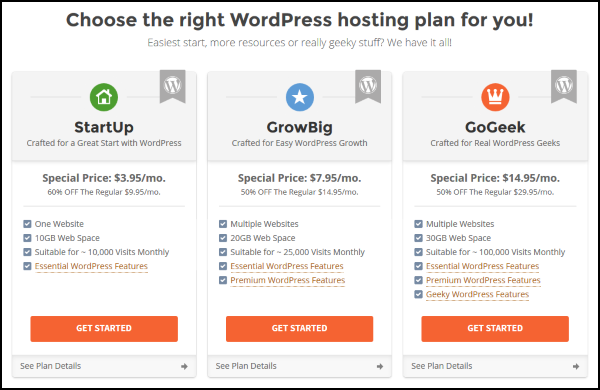 Next, enter your desired domain name in the box to see if it's available.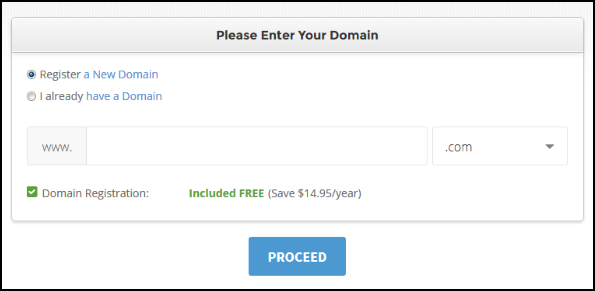 SiteGround not only takes care of your domain name, but it also provides the hosting of your site at a great price. If you decide to host with SiteGround it gives you the domain name for free.
Below is a screenshot of what you could use for your StartUp package settings.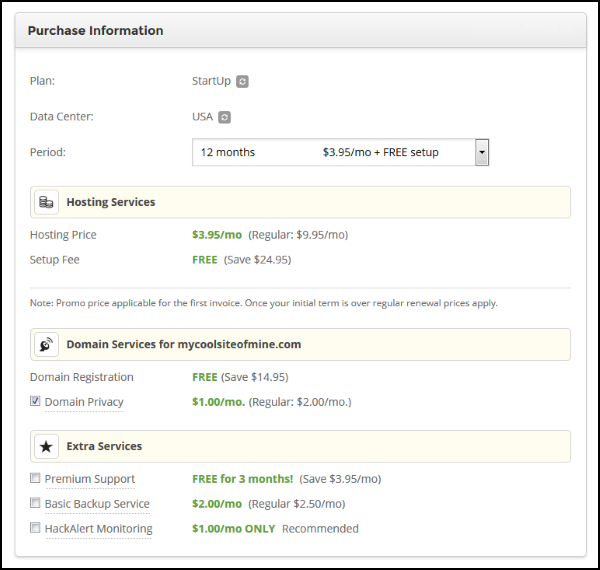 The optional Domain Privacy setting protects your personal information by shielding it from being publicly displayed (always a good idea).
2. Install WordPress
Once you have finished registering with SiteGround, you can install WordPress.
WordPress initially started as a blogging platform, but today many businesses use WordPress for their company's website.
Installing WordPress is very easy using SiteGround. Here's how:
The first time you Log in to SiteGround you will get a window asking to install WordPress.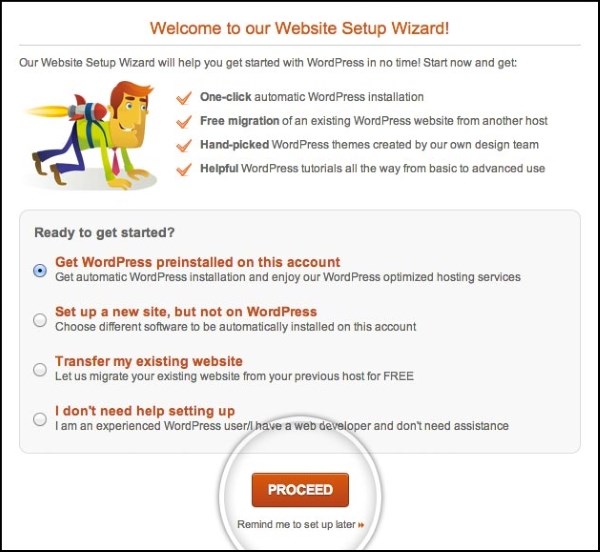 Enter the information for your new blog. Make sure you use a Username that is not admin and use a complex password. This will be the administrator account with entire access to your blog so you want it to be secure. Later you can add another user and limit it to the role of an Author.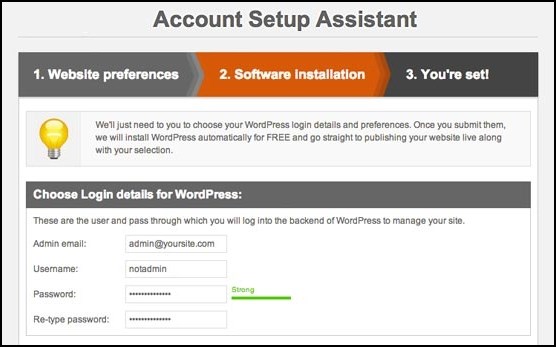 Pick one of the themes (don't worry too much about choosing the right theme now because one you gain access to your site you'll have many more theme options available. We'll talk about this more in the next step).
Lastly, you will see the Admin URL, Username, and Password you selected. Copy this information and keep it in a safe place.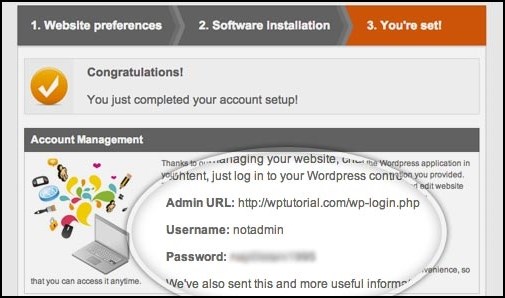 To access your website, type the Admin URL in your browser. This will display a login screen where you enter your Username and Password.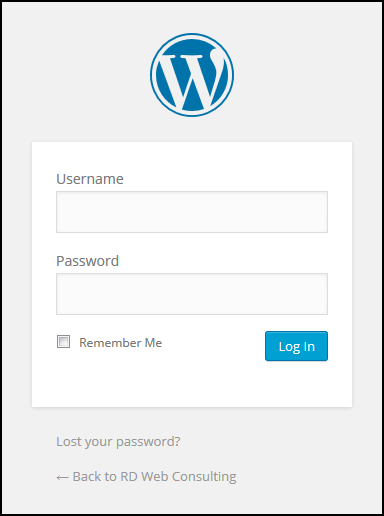 You have just logged into your new blog for the first time!
3. Pick a Theme
You are now minutes away from jumping right in and writing about anything you like.
But first, you should personalize your blog by selecting a theme. Initially you selected a theme when you installed WordPress, now you should consider whether you want to change the theme. WordPress has tons of free themes to pick from. You can take a look at all of the choices in the WordPress Theme Directory for many great free wordpress themes.
If you prefer a premium theme, there are many good options. One option is the Genesis Framework – An extremely popular framework used by many websites with numerous themes from StudioPress.
4. Optional Step — Contact Me
This is just the beginning!
If you need assistance with any of these steps or if you would like to take your WordPress site to the next level, contact me.
I can help you with the WordPress setup, Domain Name Recommendations, Hosting Recommendations, WordPress Training including showing you how to use WordPress and how to install plugins and themes. Another important and sometimes difficult task is customizing your blog so it looks exactly as you want. I can also assist you with that along with WordPress security to limit the risks of your website being hacked. Also I can make your blog fast which helps with Search Engine Optimization (SEO).