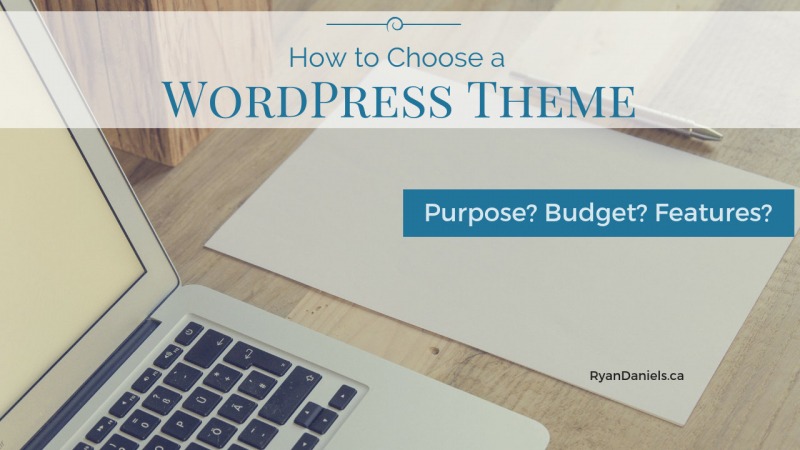 In this post I will take a close look at all of the things you need to consider when choosing a WordPress Theme. I will also provide you with some of my picks for the best WordPress themes.
Imagine this, you have the greatest content on your website (or plan to shortly) and really think everyone should be reading it. The problem is, people aren't paying attention. You get a few visitors but nothing like what you expect. You want to be getting tons of traffic to your website.
What could be the problem? Does your website look like it was made 10 years ago? Is it too boring or distracting? Choosing the best WordPress theme for your website can make all the difference to present your content in a stunning way.
Now that you have a good understanding of what WordPress is, and how to start a blog from my previous posts, we need to talk about how to choose a WordPress theme.
Purpose of your website or blog
This is the first and most important question because you want a WordPress theme that will compliment the purpose of your website or blog.
What is your website for?
What do you want it to achieve?
If you are a photographer you'll want a theme that offers a place to showcase your beautiful photographs.
If you are a local business you will want a clean look with an area for a map and address, along with a contact form and an about section.
Budget – Free Theme or Premium Theme
The next decision to make is a Free or Premium theme?
There are many free themes and the best part is they are free! However, some downsides are that free themes aren't always maintained or updated. Another thing to consider is how much you want to customize the theme. Is there documentation for it? And lastly, will there be support for it?
Premium themes are not too expensive, usually around $50 (a one-time fee). Plus, they are well maintained, documented, and offer support. More on that in a bit.
Theme Features to Look For
Now that you have your website goal established and an idea for a budget, you need to decide what features you require in a WordPress theme and begin to research options.
A few things to keep in mind while researching for a new design:
>> Visual Appeal
Is the theme visually appealing to you and does it match the look you want to achieve for the purpose of your website?
>> Theme Functionality and Customization Options
Can you easily modify the look of the theme, including the colours and number of columns? Can you move elements around easily?
>> Responsiveness
Make sure the theme offers mobile responsiveness. This is important because many people now use their tablets or phones to view sites instead of a computer with a large monitor. You need to make sure your website will look nice on every device. Most recent WordPress Themes have this functionality.
Sites like BrowserStack and Matt Kersley's Responsive Design testing and Google's Mobile Friendly test can help test this.
Also, confirm the theme works across all web browsers (Chrome, Firefox, Safari, Internet Explorer). A site like browserling can help test this.
>> Support and Documentation
It can be difficult to figure out if the developer provides a good level of support. Check the theme's support forum and try to determine how fast questions are answered. Also, consider when the theme was last updated, and how often it has been updated.
The theme should have documentation available so it will be easy to understand how to make any changes.
Plus, check how other people rate the theme from reviews.
Research and Explore WordPress Themes
Now that you have all of these things in mind when looking for a WordPress theme, it's time to start exploring.
Here are a few places you can find free and premium themes:
Need help with your website or blog?
Recommended Themes
Like I mentioned above, everyone will have a different purpose and different goals for their website. With that being said, here are a few themes that I recommend for a starting point.
Best WordPress Themes that are Free
Multipurpose theme: Point Theme
Easy to customize because it has tons of options including changing the colours, sidebar location, add custom CSS, add a logo, add custom header code. It also has built-in Ad space options, about the author and related posts section. The Point Theme is mobile friendly (responsive) and looks great.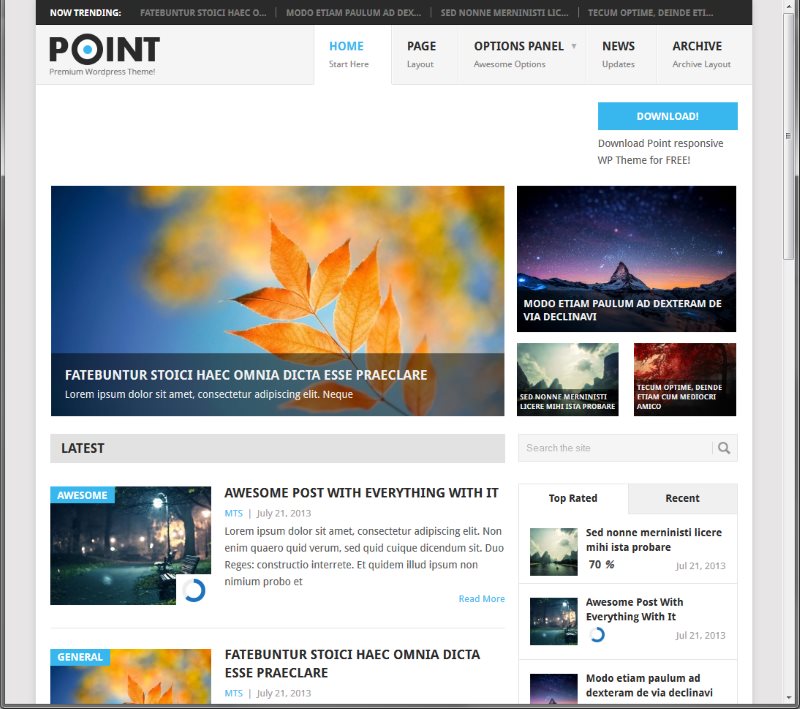 Check out the Point Theme.
Blog or Business: Zerif Lite Theme
Great theme for a Blog or a Business. The Zerif Lite Theme offers a customizable footer section so you can include your business phone number and address, a nice "About Us" section to put your business and a built-in section for Testimonials. It's also mobile responsive and has a lot of documentation.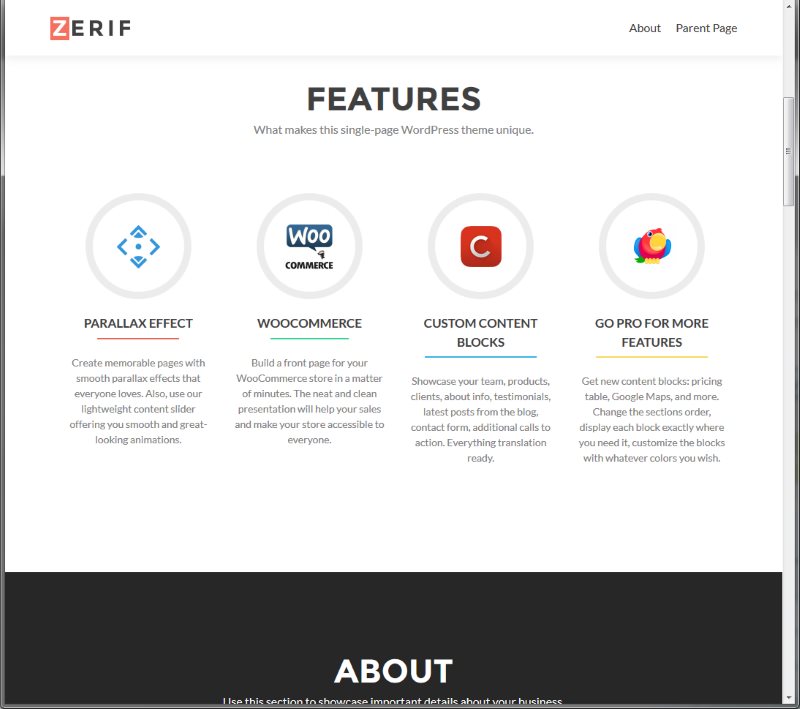 Check out the Zerif Lite Theme.
Best WordPress Themes that are Premium
Photography theme: Ambiance Pro Theme
Puts your photography in the spotlight by using a grid with the featured picture as a background for the post. The Ambiance Pro Theme also offers options for custom headers, landing pages, and is mobile responsive.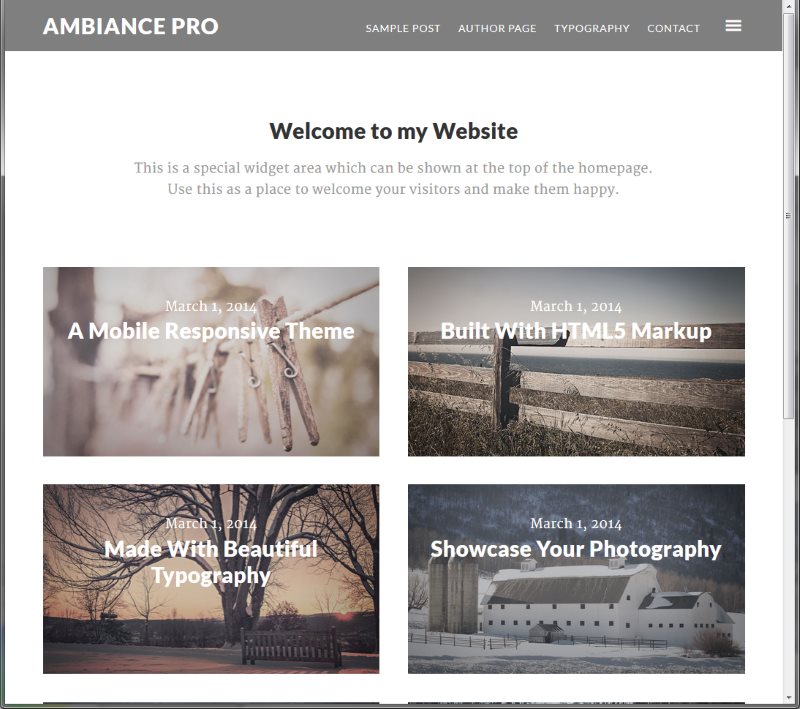 Check out the Ambiance Pro Theme.
Food Blog: Foodie Pro Theme
A Foog Blog or website needs to pull in the viewer with their pictures. Foodie Pro Theme is another great theme that can also be used for a Photography website. Options include a built-in slider to feature your pictures, customizable "About Me section", Ad space, easy to change the fonts, and mobile responsiveness.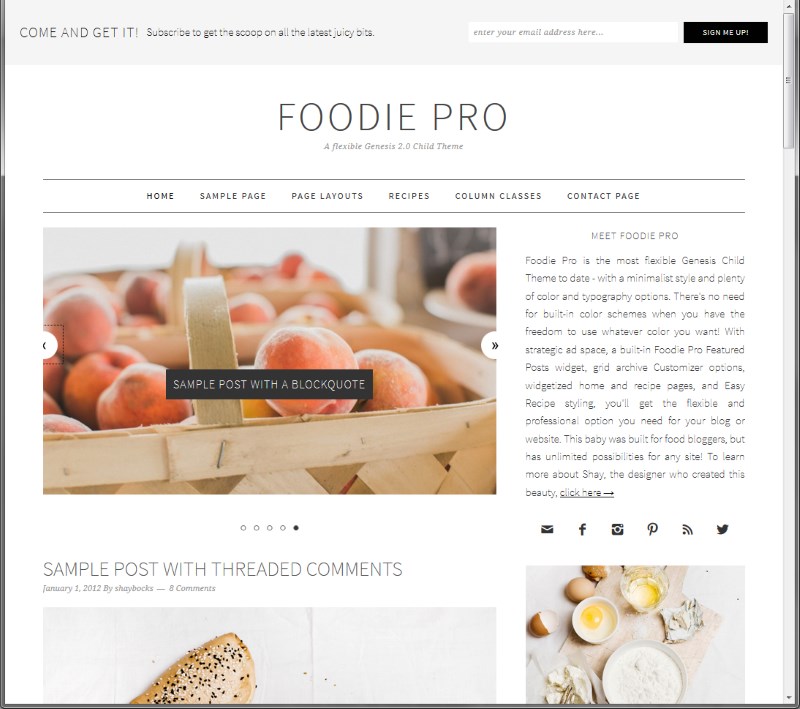 Check out the Foodie Pro Theme.
Business: Architect Theme
The Architect Theme is perfect for a business. It has a Testimonials section and a Projects/Portfolio page. Other options include CSS animation to get a visitor's attention, Google Maps to highlight your location, and a contact form. Documentation is available to help you along the way and support is included.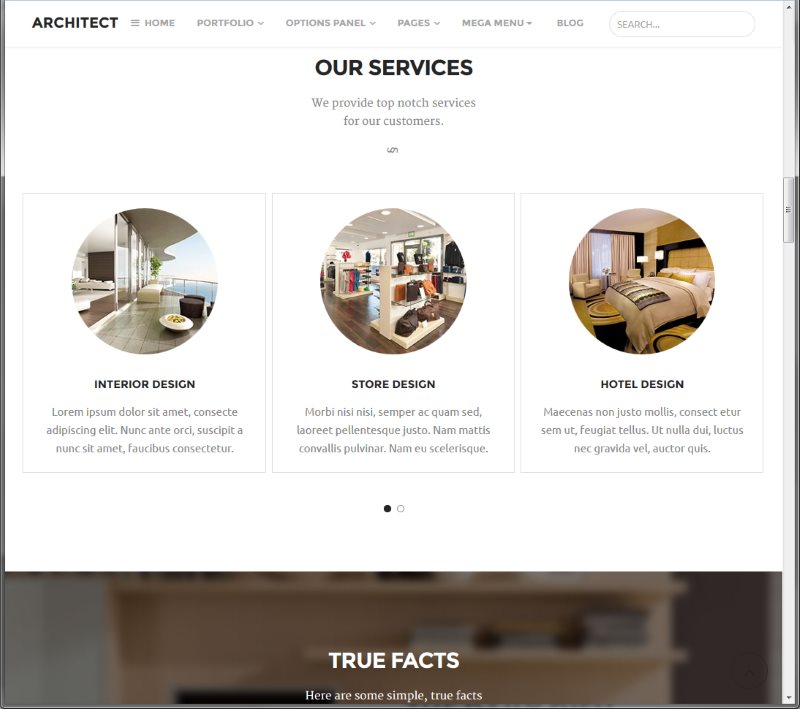 Check out the Architect Theme.
Need Help?
Feel free to contact me if you need any help choosing, configuring or customizing your WordPress Theme. Make sure your website stands out from all the rest. I can help!
Be sure to check out the next article: The Best WordPress Plugins to Kick-Start your Blog.